Adena Local Schools will be closed to students on Friday, January 13, 2023, for a scheduled staff workday and on Monday, January 16, 2023, in observance of Martin Luther King Jr. Day. The second nine week grading period ends this Thursday, January 12,2023. Grade cards will be available on Friday, January 20, 2023.


A winter weather advisory is predicting dangerously cold temperatures, high winds, and some snow in our area tomorrow. Due to the predicted forecast, all activities at Adena Local Schools will be cancelled for Friday, December 23rd. The building will be closed. We encourage everyone to stay home and out of the weather.

Congratulations to our Adena Elementary December PAX Students of the Month! Row 1: Jasper James-1st grade; Ila Wilburn, 3rd grade Row 2: Forrest Beatty, 3rd grade; Cannon Wilson, 4th grade; and Katie Simon, 5th grade Absent: Mia Sevy, Kindergarten and Jase Graves, 2nd grade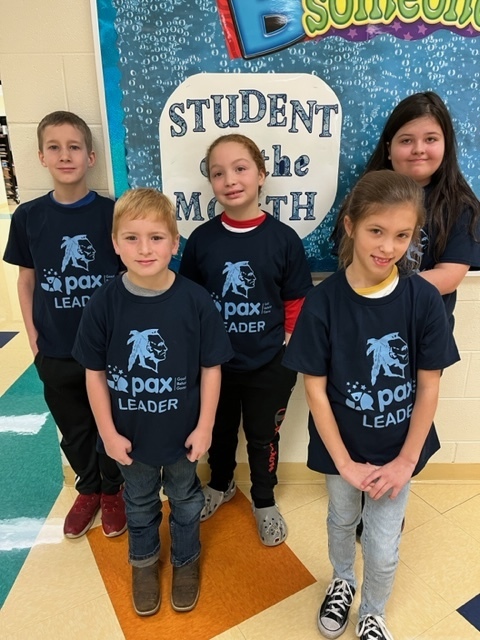 Mrs. Smith's third grade class just finished reading about the Wright Brothers and their invention of the first airplane. Under the guidance of Mr. Bluck's FFA students, Mrs. Smith's class got to build wood airplanes from kits. A leadership activity for our high school students and an opportunity for Mrs. Smith's students to build a plane just like Wilbur and Orville Wright did.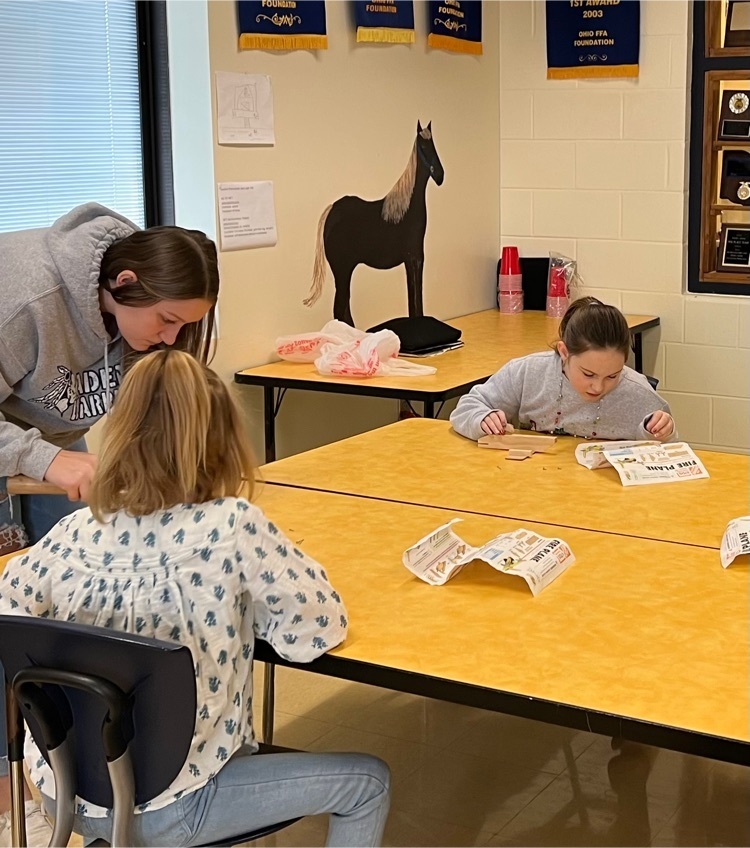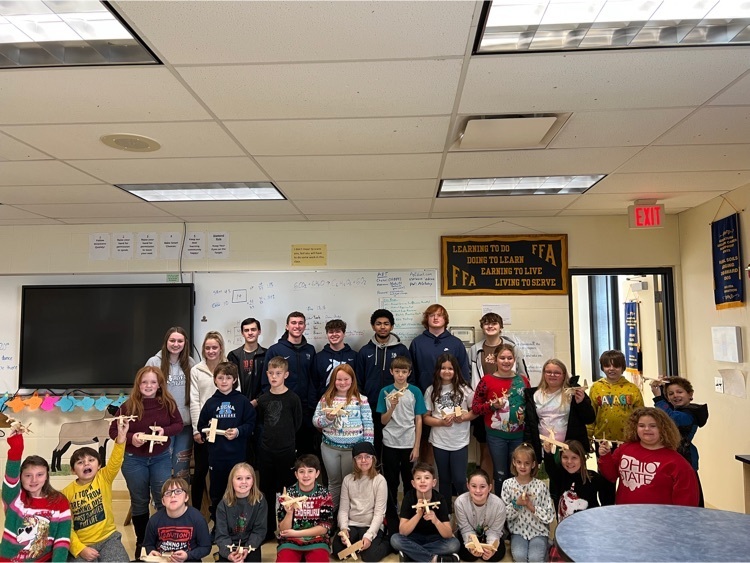 The Third Grade Winter Music Program has been rescheduled for Thursday, January 19, 2023 at 6:30 p.m. in the auditorium.

The Third Grade Winter Music Program that is scheduled for this Thursday, December 15th at 6:00 p.m. has been postponed. A new date will be announced later today. The event will take place after winter break.

The Adena High School powerlifting team participated in the Iron Eagle Classic hosted by Madison Plains today. The team's first meet in school history! It was a successful first meet with a lot Warriors achieving personal bests and several individuals placed in their respective divisions. Individuals that placed are: Adyson Wisecup - 2nd 75lb bench/195lb deadlift- 270lb total Greenlee Bossert -3rd 105lb bench/205lb deadlift-310lb total Destiney Sommers -3rd 65lb bench/170lb deadlift- 235l total Lydia Beery- 2nd 75lb bench/195lb deadlift-270lb total Nora Beery-2nd 80lb bench/205lb deadlift-285lb total Nathan Dreitzler 1st 195lb bench/340lb deadlift -535lb total Caden Jones 2nd 260lb bench/440lb deadlift- 700lb total


Important Message from Adena Local Schools RE: Upgrades to Student Lunch Account Systems Your child will bring home a paper copy of information about a new breakfast/lunch student account management system which will go into use when we return to school in January of 2023. Please read this information carefully. There is an FAQ sheet for your examination as well. If you have further questions the FAQ didn't address, please email us at
adenacafeaccountsystems@adenalocalschools.com
and we will find the answers for you. Here is the link to the documents your child should bring to you in case they get lost between school and home. Thanks!
https://drive.google.com/file/d/1qjaqEphZDvs-TUAPvX6ZdIoMNQi2CBph/view?usp=sharing

Important Message from Adena Schools The flu and other viruses are currently making their way through the school. We continue to sanitize daily, but we are beginning to see significant numbers of students ill, especially in the elementary. Several students have gone home ill today. We have many staff out sick as well, and we have used nearly all of our supply of substitute teachers at this time. Please help slow the spread by being aware of the following: 1. If your child does not feel well, please don't send them to school. Just remember to call in the absence in a timely manner. 2. If your child has a fever- keep them at home until they are fever free for 24 hours. 3. Remind your child to wash their hands frequently, and keep hands away from their face. 4. Try to avoid crowded situations in public places if possible until the viruses burn out. Have a back-up child care plan in place for the short term. We hope to make it through to break, but we are very close to having to close school if these trends continue. If we do have to close school we will try to call by 6:00 a.m. at the latest. We appreciate your help and cooperation. Be careful, stay well, and be Warrior strong!


Congratulations to October Warriors of the Month! These students demonstrated the traits that make an Adena High School Warrior. We are proud of their efforts and accomplishments! GO WARRIORS!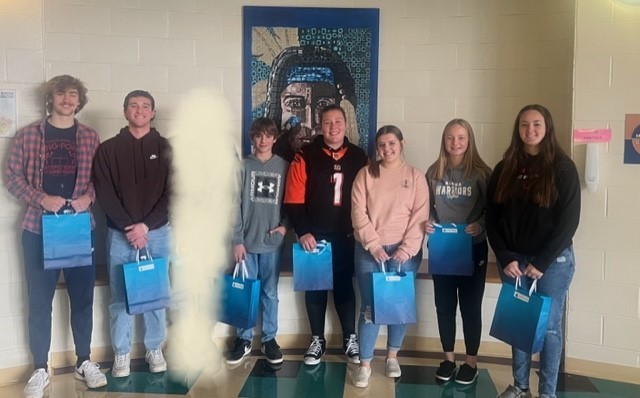 Congratulations to our Adena Elementary November PAX Students of the Month! Row 1:L-R Colton Neukirchner (K), Corey Forby (1st), Lee Constable (2nd) Row 2: L-R Parker Gilliam (3rd), Scarlett Gleason, (3rd), Trenton Starr (4th), Maddie Reisinger (5th) Keep up the great work!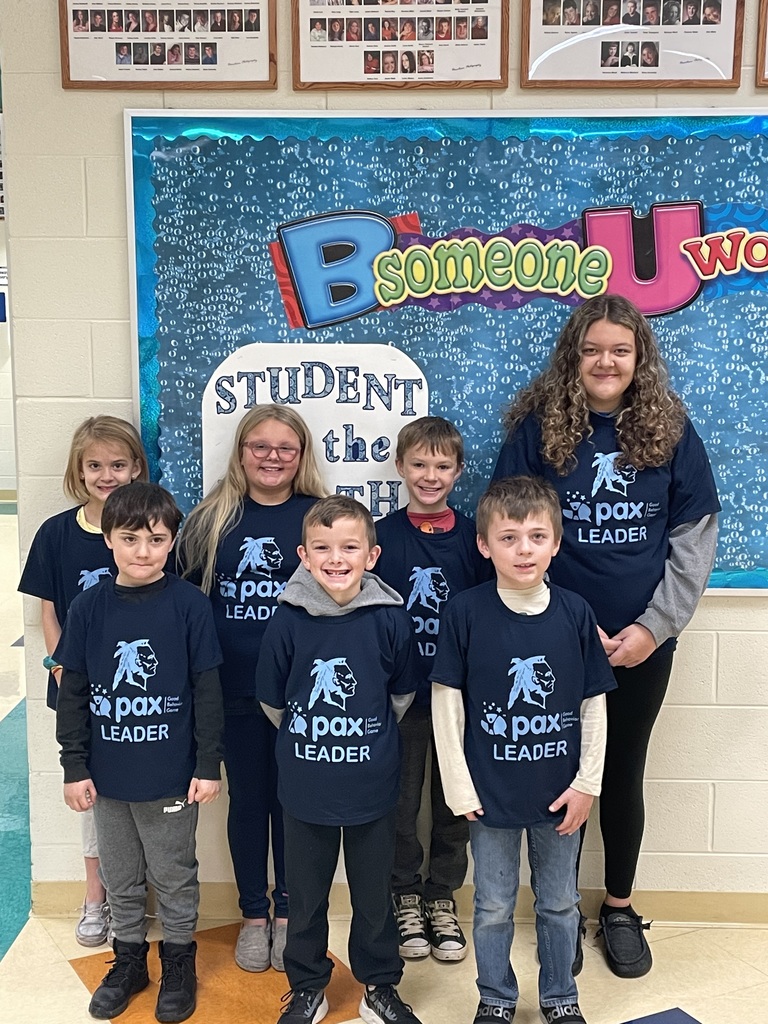 The Adena PTO is hosting their annual Cookies with Santa event on Monday, December 5th from 6:00-8:00 p.m.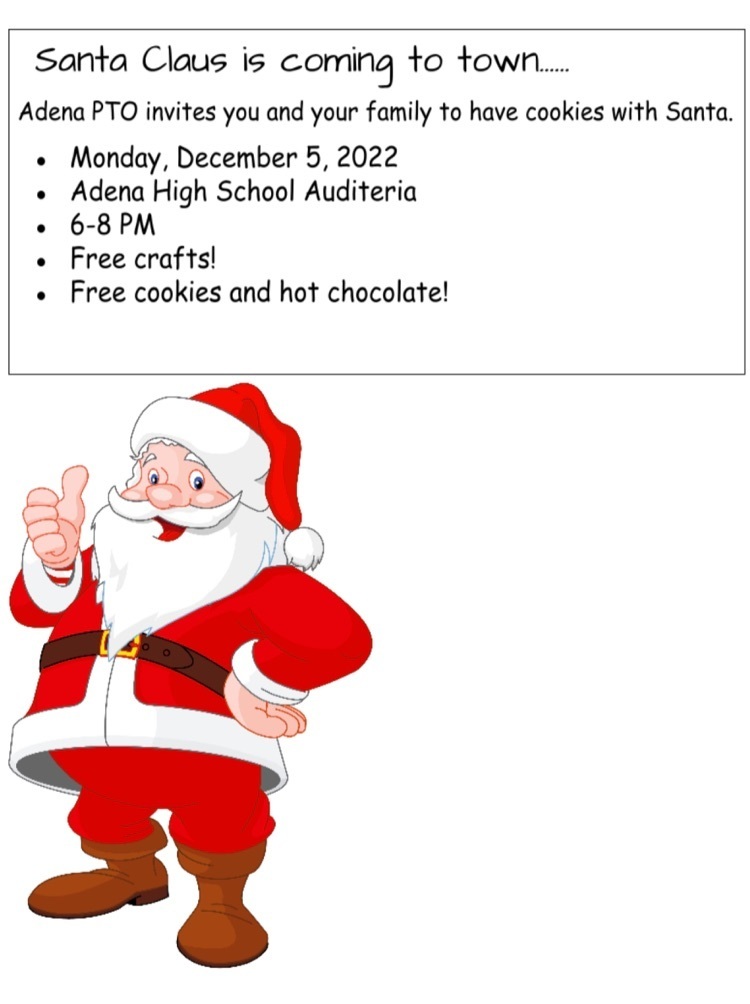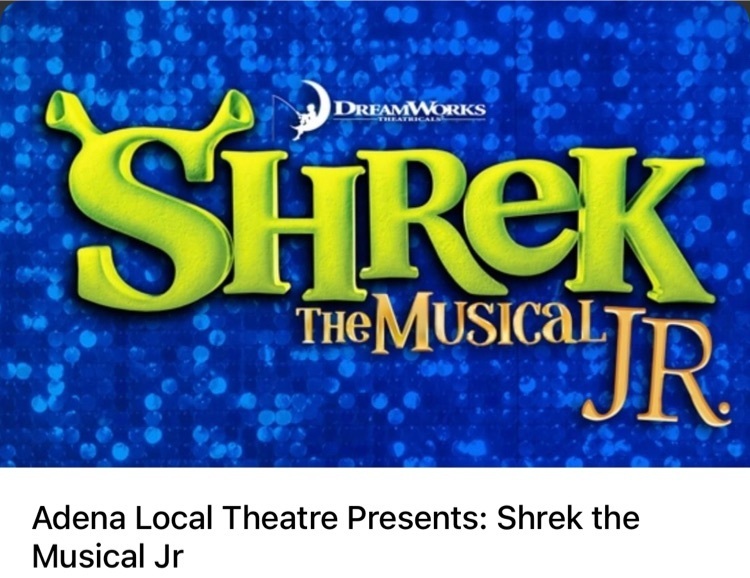 Our first grade students had an opportunity to learn how to make bread today. They were instructed by high school students in Ms. Hampton's Life Skills classes. A great experience for all students!