The Adena Local School District will have a levy issue on the November 2, 2021 general election ballot. The levy is a 10-year, 1% earned income tax for permanent improvements. A permanent improvement levy requires funds to be spent for building maintenance and improvements, buses, technology, textbooks, equipment, and other non-personnel expenses. The additional funds will allow the district's general fund to maintain the operations of the school, enabling the Board to take a balanced and sensible approach to the overall financial condition of the district and remaining competitive with the surrounding districts of Ross County. An earned income tax applies to earned wages and business income. Property, retirement, pension, social security, and other investment income are not taxed under this type of levy. There will be two community meetings for the public to attend with any questions they might have. One meeting will be held on September 20th (7:00 P.M.) at the Brick located at 113 East High Street in Frankfort. The second will be held on September 27th (7:00 P.M.) at Clarksburg United Methodist Church. The levy is supported by Citizens for Adena Schools Levy Committee, Max Francis, Treasurer.


Jostenś will be coming to Adena for their annual Class Ring and Graduation Gown presentations on Tuesday, Sept. 14th. Freshman will be called down first thing in the morning after attendance and seniors when they are finished. Seniors please bring your Chromebooks.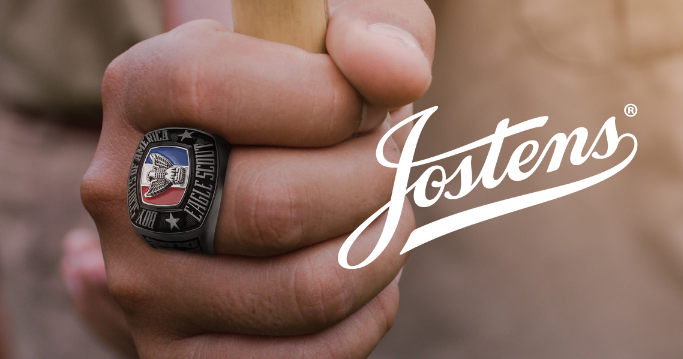 Adena COVID Clinic Info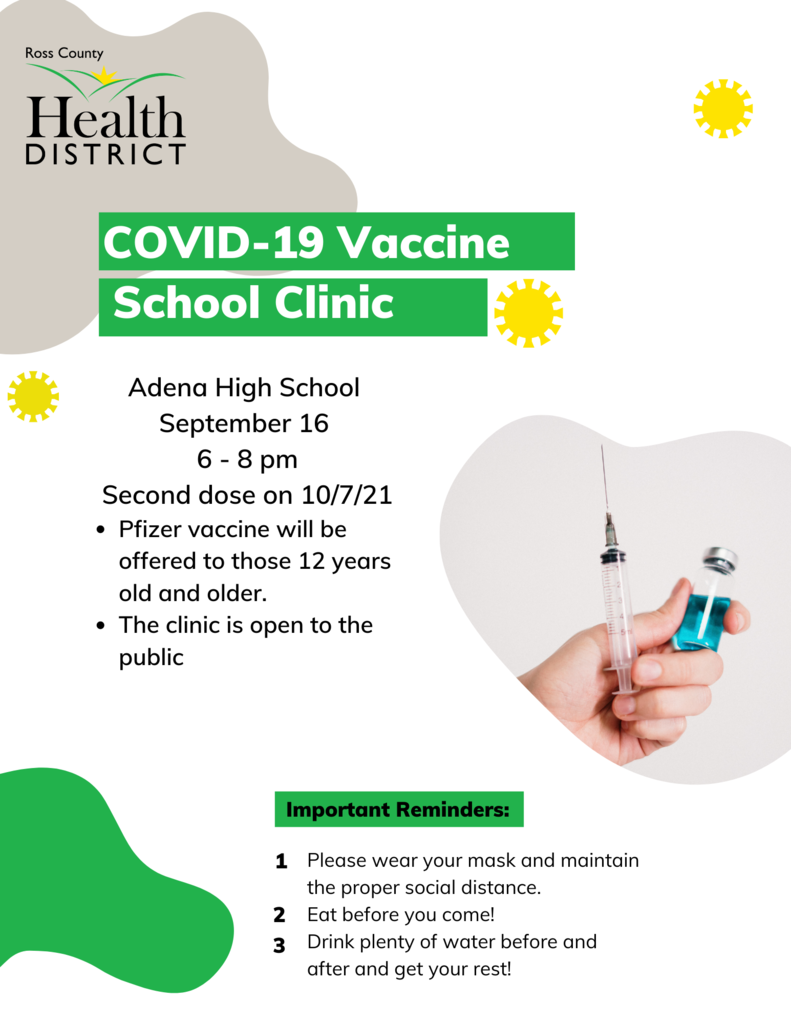 Warriors, Attached is our first Adena Elementary Newsletter. It is still in the beginning stages, but does provide a lot of information. Eventually, it will join our high school newsletter and go out into the community. In this newsletter, you will find the lunch menu, helpful links, upcoming dates, and what to expect from each grade level this coming week. We will add more items to this newsletter as we get into the school year. This newsletter has also been sent out in SMS and through email. Please join our ClassDojo. Our newsletter will be posted here weekly, along with other items through the week.
https://www.classdojo.com/invite/?s=51892418e15faf8811000673
It will also be posted there every weekend. Link to Adena Elementary Newsletter:
https://docs.google.com/document/d/1xRLXaOEYOYqIZ4tn569cf8-6DK7FaCW3slGlUk4Pd1U/edit?usp=sharing

Hello and welcome to Football Friday Night. It is great to see the community come together and celebrate a proud tradition of Warrior football! Please remember that you are strongly encouraged to wear a mask and be aware of distancing. There are significant numbers of positive cases of Covid-19 in Ross county at this time. We want everyone to enjoy the evening but we want to remind everyone to play it safe. Kids should remember that what you do outside of school matters as much as the precautions you take in school if we want in-person learning to be feasible this year. Thank you, and enjoy the game!



Elementary Update: It was great to see our students back in the building last week! In the weeks coming, there will be a weekly newsletter sent by email, SMS, and posted on here. Tomorrow, our kindergarteners will have their first full day together as a group. There is a color theme for their first seven school days. This week's kindergarten color themes are: Monday-Red Tuesday-Yellow Wednesday-Green Thursday-Orange Friday-Blue School Spirit- Every Friday, all students are encouraged to show their school spirit! Wear our Adena colors! Final Forms-If you have not updated your FinalForms, please do so as soon as you can. Drop-off line- If you are dropping of student (s), please do not get out of your car to see them off. We have a lot of traffic coming through and we are trying to make the pace of the line efficient for everyone waiting in the line. If you have to walk them up to the building, please park in the back parking lot and you can walk your student (s) to the door. Masks-We are still strongly encouraging students to wear masks. This will prevent them from being quarantined and helps stop the spread of sickness. Our elementary students have done a fantastic job with mask wearing on buses! We know nobody enjoys wearing them, but cases are rising. Josh Jones Adena Elementary Principal


The following link is a guide to quarantine after exposure to Covid in a K-12 setting from The Ohio Department of Health. Notice that you can almost always avoid quarantine if you were wearing a mask consistently and correctly. Please understand we will have to follow these guidelines when an exposure occurs in the school setting. We hope this will help you understand how the process works:
https://drive.google.com/file/d/1SAPyRVXW5lnLofnlZ0ZRfXqU65VlErDW/view?usp=sharing


Good evening! This is Dustin England, Adena Middle School Principal, with important information for middle school families as we embark on a new school year. Please continue to check the website or app under the live feed for important information as well. We hope that everyone has had an enjoyable summer and we are excited to welcome all the students back to Adena for the 2021-22 school year. If you were unable to make it to Open House this evening and have not received your schedule yet you can report to the Middle School office to get one. You will notice the middle school students have different days the first week that they will attend. 5th and 7th grade students will come on August 25th and 6th and 8th grader students will not attend on this day. 6th and 8th grade students will come on August 26th, and 5th and 7th grade students will not attend. August 27th will have all middle school students in the building. If you have any questions regarding any of this information, feel free to contact MS Office at (740)998-2313. We are looking forward to the start of another great year! Go Warriors!

A reminder that our Open House is scheduled for tomorrow night from 5:00 p.m. to 6:30 p.m. The freshman orientation is scheduled for 4:30 p.m. in the high school gym. The fifth grade orientation is at 5 p.m. in the auditeria. This will be followed by the sixth grade orientation that will be at 5:15 p.m. in the auditeria. Our transportation department has a pirate theme to welcome you back. Feel free to join in.

Welcome back Adena Warriors! I am Ms. Kelly Dean, a Title 1 Reading Intervention teacher. I have been teaching at Adena for 6 years and enjoy working with our students. My family and I moved here from Florida in 2015. While living in the Sunshine State, I taught fourth grade reading/language arts, science, and social studies for 22 years. I have two adult children, my son Trace, and daughter Hannah are twins. They will be turning 24 years old this month. As a family, we enjoy traveling, especially if there's a beach nearby, hiking through Hocking Hills, and spending time with family and friends. As for me, I enjoy shopping, reading books, watching movies, and visiting with friends. I'm looking forward to seeing our students again this school year. They brighten each day with their smiles, eagerness to learn new things, and enjoying school.

Hi, my name is Tabitha Lusk. I have been teaching Art at Adena for 30 years now and I love my job! I earned a master's degree in art education from OU. I get to work with the greatest staff and students and have fun every day! My husband Chad and I have two kids, Dillon and Audra, and one very special granddaughter, Maddy. We all enjoy spending time outside doing just about anything! In my spare time, I enjoy teaching and practicing yoga. Whether I'm teaching art or yoga, I love having the opportunity to make a difference in others' lives.