Adena Elementary Preschool Program has a few openings remaining for the 2021-2022 school year. If you have a child who turned 4 years old on or before August 1, 2021 and you meet the income guidelines, please contact us to schedule a registration appointment! We can be reached at 740-998-5293, then select option 4 for the Preschool Supervisor.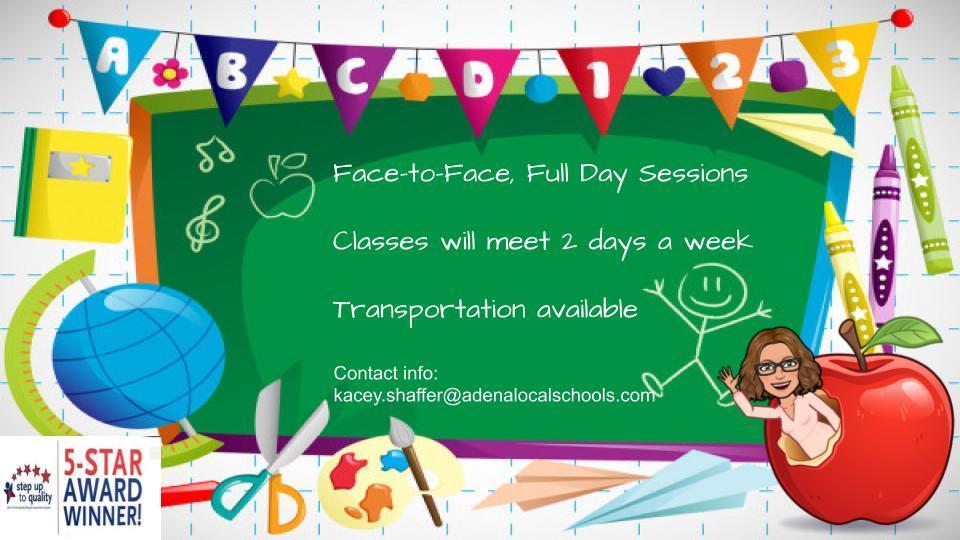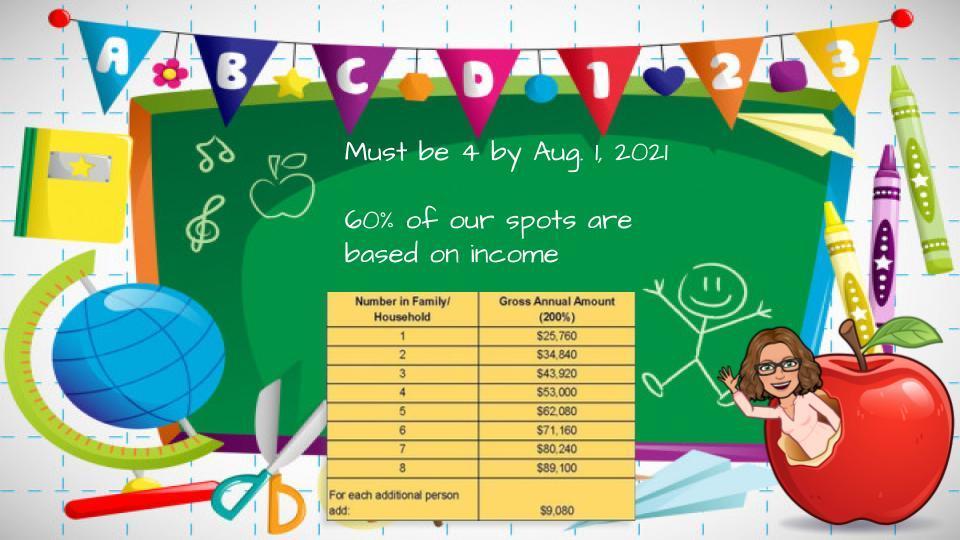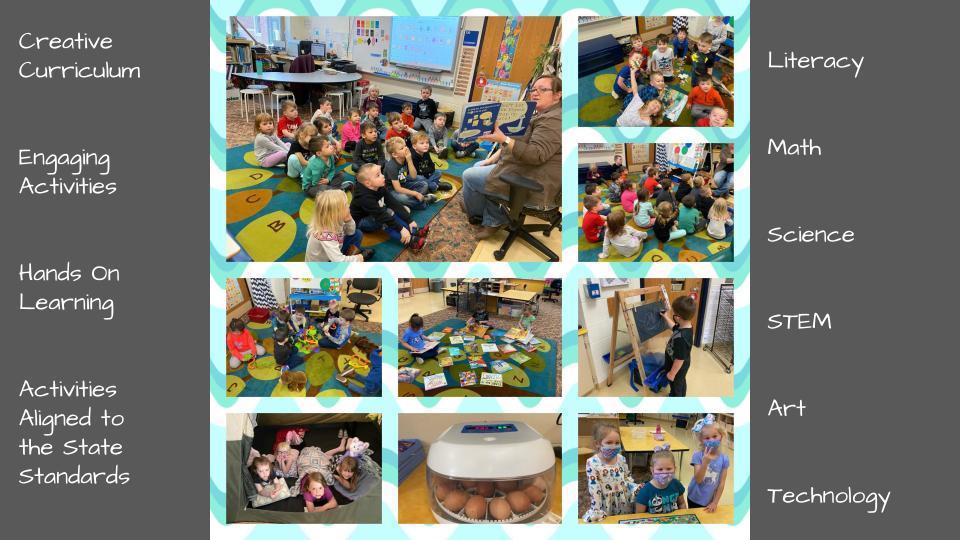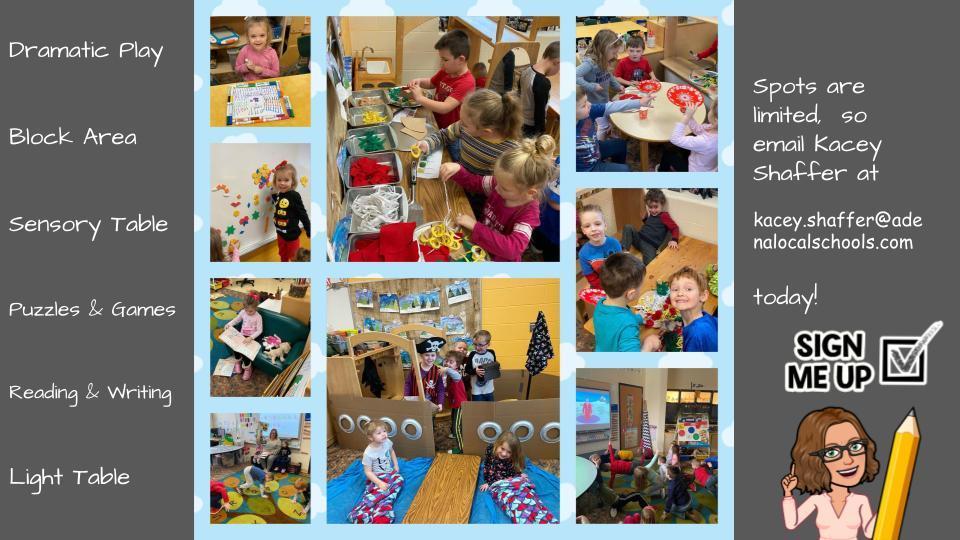 Meet the candidates night information: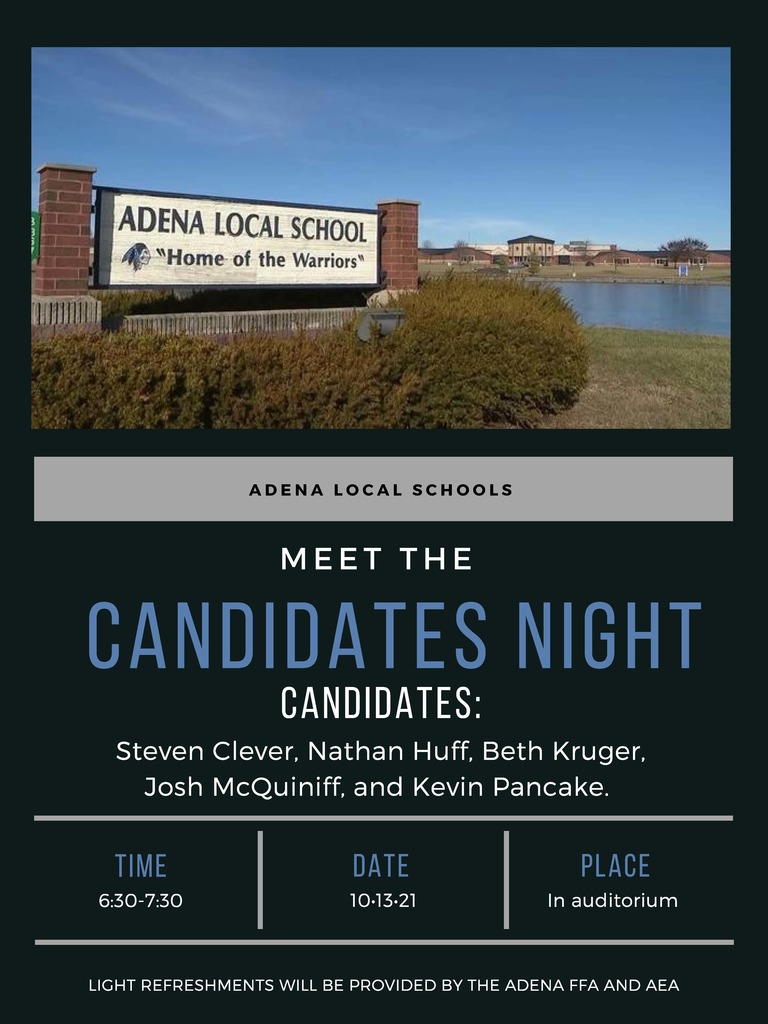 Adena School picture day is this Thursday, September 30th, 2021. The access codes are different depending on what building your child is located in. For example, if they are a middle school student, their event access is Adena Middle School. You can pre-order at downtownphotos.com.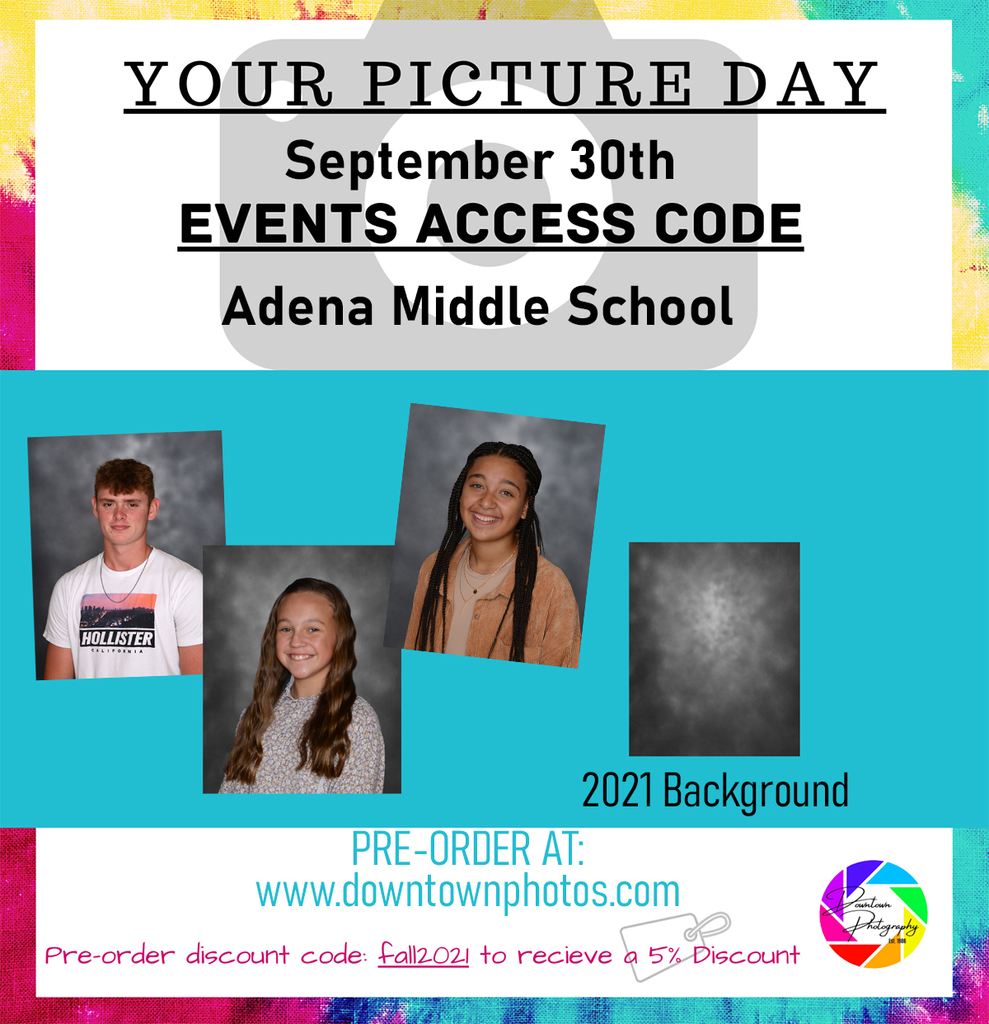 Reminder: Parent Teacher Conferences are this Thursday, September 23rd from 4-7:30 p.m. and next Thursday, September 30th from 4-7:30 p.m. If you would like to schedule a conference with your child's teacher or teachers please reach out to them to schedule one. Staff will be offering in person, phone, or Google Meet conferences to accommodate your schedules.

Picture Day is coming!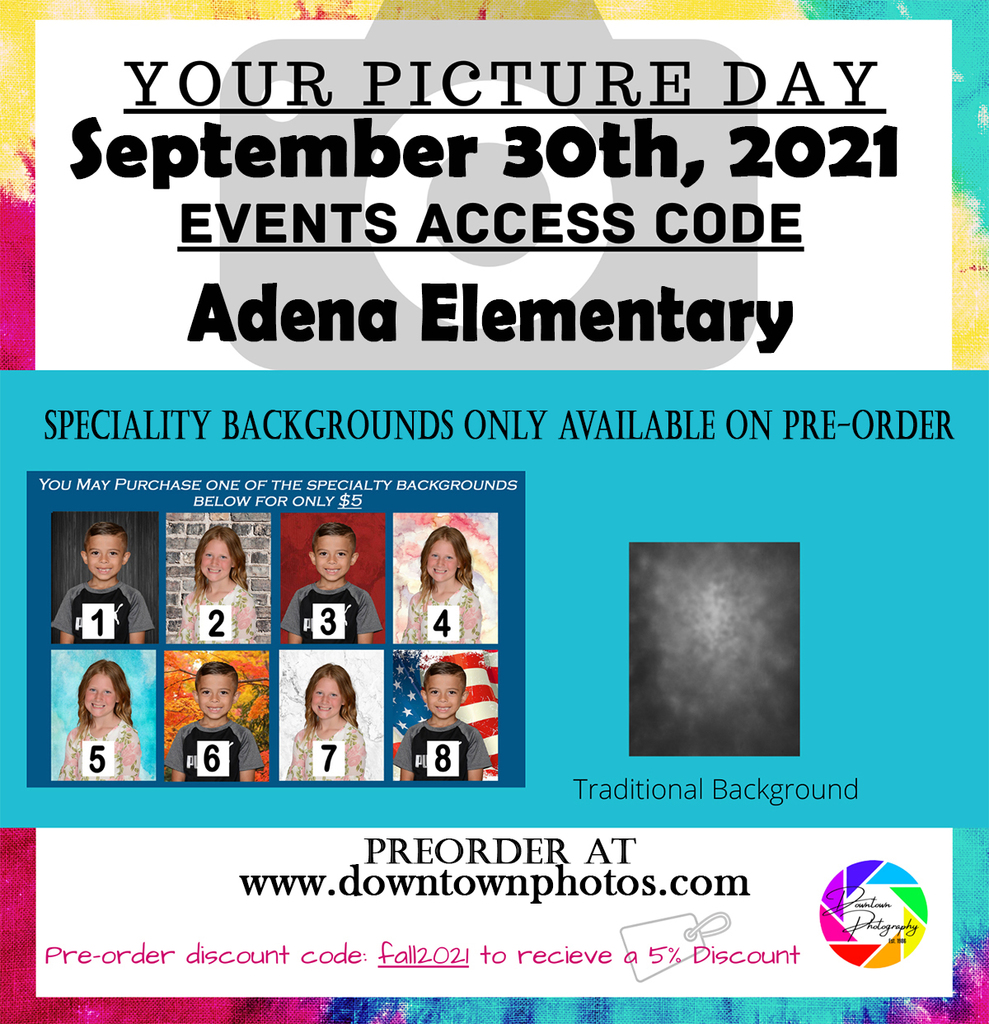 Don't forget that Adena Local Schools has its own app. There is tons of useful information including cafeteria menus, alerts, and athletic information. Download it from your app store.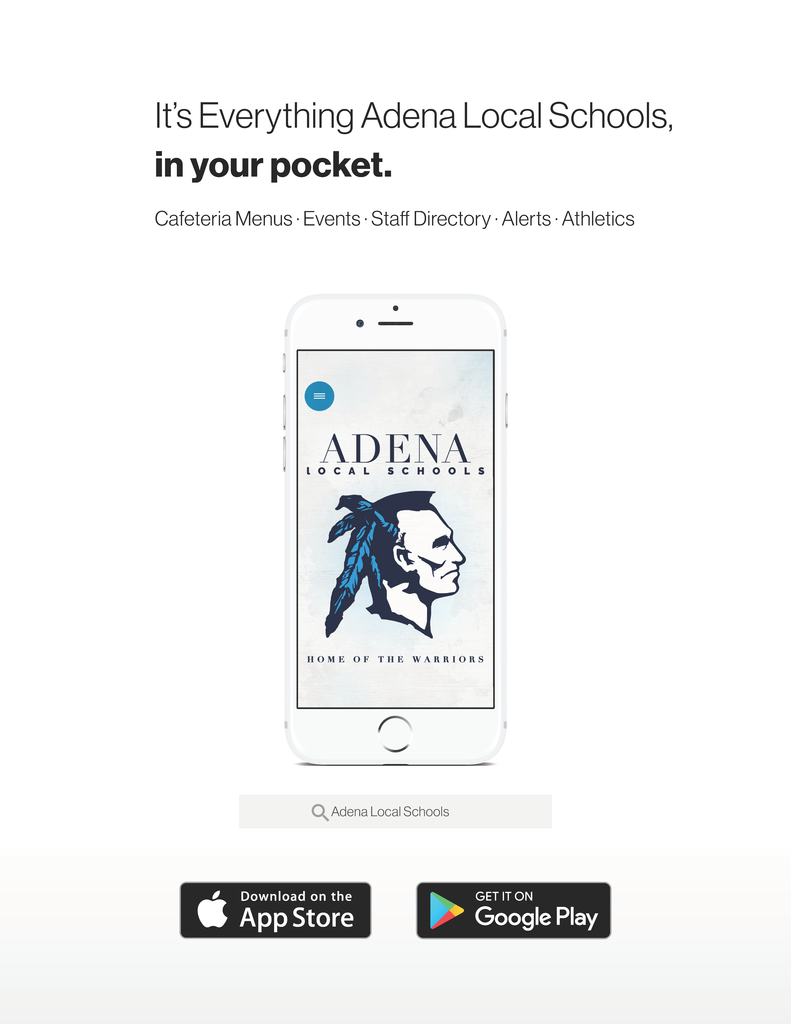 The Adena Local School District will have a levy issue on the November 2, 2021 general election ballot. The levy is a 10-year, 1% earned income tax for permanent improvements. A permanent improvement levy requires funds to be spent for building maintenance and improvements, buses, technology, textbooks, equipment, and other non-personnel expenses. The additional funds will allow the district's general fund to maintain the operations of the school, enabling the Board to take a balanced and sensible approach to the overall financial condition of the district and remaining competitive with the surrounding districts of Ross County. An earned income tax applies to earned wages and business income. Property, retirement, pension, social security, and other investment income are not taxed under this type of levy. There will be two community meetings for the public to attend with any questions they might have. One meeting will be held on September 20th (7:00 P.M.) at the Brick located at 113 East High Street in Frankfort. The second will be held on September 27th (7:00 P.M.) at Clarksburg United Methodist Church. The levy is supported by Citizens for Adena Schools Levy Committee, Max Francis, Treasurer.


Jostenś will be coming to Adena for their annual Class Ring and Graduation Gown presentations on Tuesday, Sept. 14th. Freshman will be called down first thing in the morning after attendance and seniors when they are finished. Seniors please bring your Chromebooks.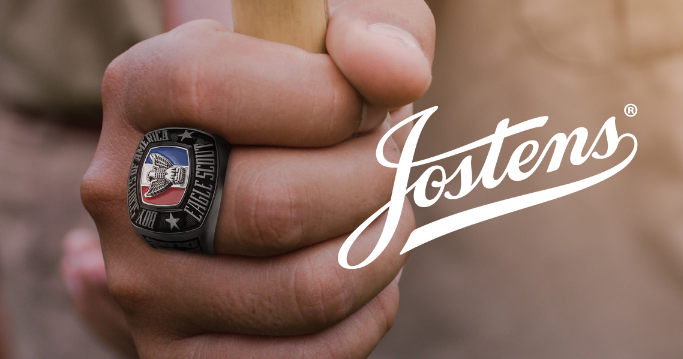 Adena COVID Clinic Info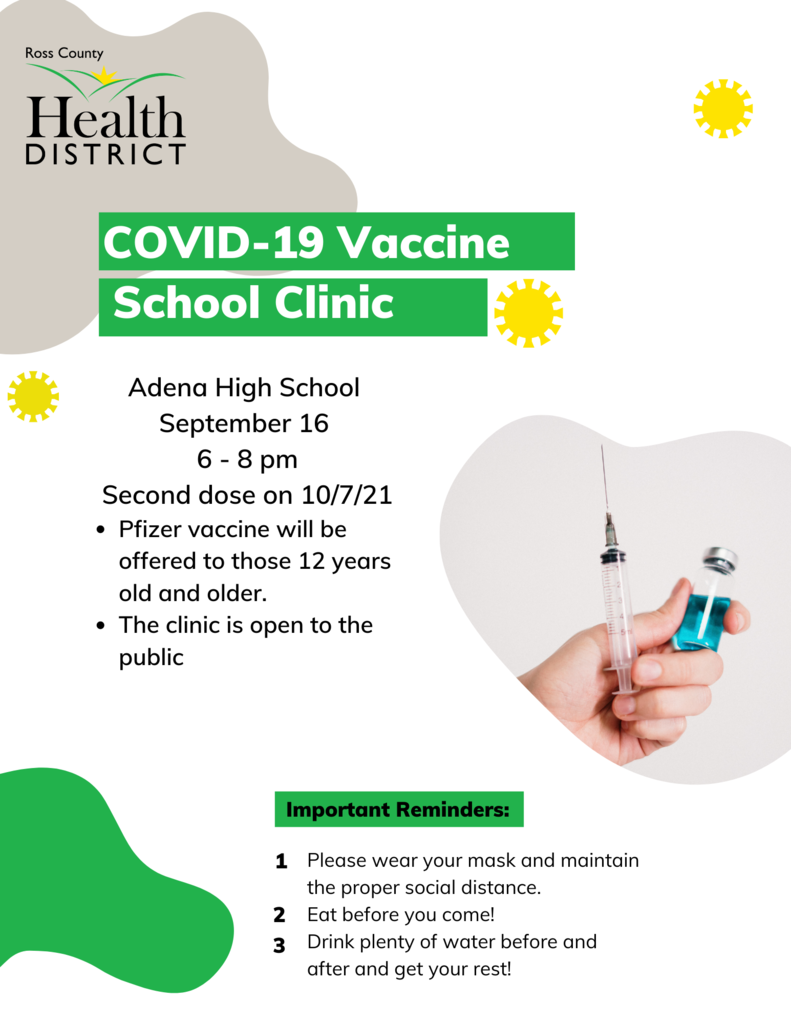 Warriors, Attached is our first Adena Elementary Newsletter. It is still in the beginning stages, but does provide a lot of information. Eventually, it will join our high school newsletter and go out into the community. In this newsletter, you will find the lunch menu, helpful links, upcoming dates, and what to expect from each grade level this coming week. We will add more items to this newsletter as we get into the school year. This newsletter has also been sent out in SMS and through email. Please join our ClassDojo. Our newsletter will be posted here weekly, along with other items through the week.
https://www.classdojo.com/invite/?s=51892418e15faf8811000673
It will also be posted there every weekend. Link to Adena Elementary Newsletter:
https://docs.google.com/document/d/1xRLXaOEYOYqIZ4tn569cf8-6DK7FaCW3slGlUk4Pd1U/edit?usp=sharing

Hello and welcome to Football Friday Night. It is great to see the community come together and celebrate a proud tradition of Warrior football! Please remember that you are strongly encouraged to wear a mask and be aware of distancing. There are significant numbers of positive cases of Covid-19 in Ross county at this time. We want everyone to enjoy the evening but we want to remind everyone to play it safe. Kids should remember that what you do outside of school matters as much as the precautions you take in school if we want in-person learning to be feasible this year. Thank you, and enjoy the game!