The baseball team claimed a Division III Sectional Championship this afternoon with 5-4 win over Lynchburg Clay! They now play Thursday at 7 p.m. in the Division III District Semifinal against Fairland at Chillicothe VA Memorial Stadium.

Our track team is sending several to the Division III Regionals in Lancaster on Wednesday! Two individuals claimed a district championship in their event! Individuals that won district titles: Boys Discus -Eric Hurtt Boys 400 Meter Dash-Tate Myers Regional Qualifiers from our boys' side. 110 Meter Hurdles- Jordan Howard 4th 100 Meter Dash-Tate Myers 4th 1600M-Noah Kanniard. 2nd 800M Dash-Garrett Simmons 3rd 4x400 relay- Noah Kanniard, Dakota Cottrill, Tate Myers, Garrett Simmons 3rd Long Jump-Tate Myers 4th Shot Put- Eric Hurtt 2nd Pole Vault-Logan Mossbarger 2nd Gabe Stark 4th Girls' Qualifiers: High Jump- Makaela Lovely 2nd

Pentagon and Air Force memorials to start day 3. National Cathedral and Capitol up next!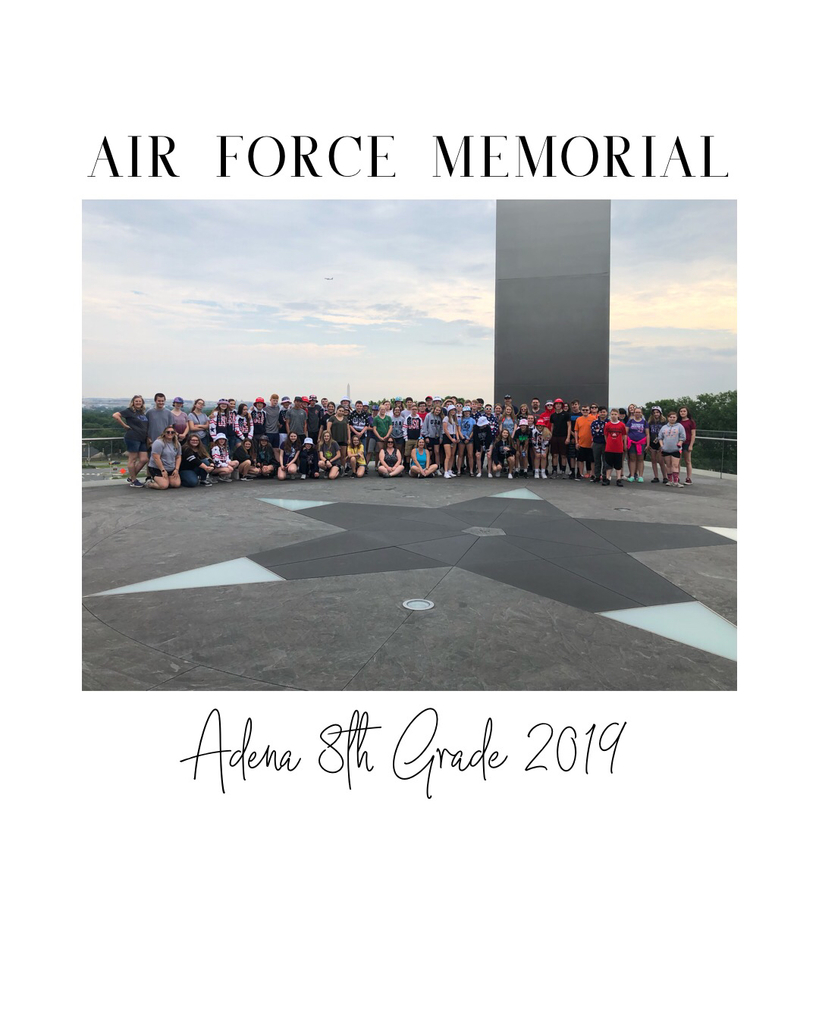 The Division III Sectional Championship baseball game against Lynchburg-Clay has been moved to 2 p.m. tomorrow at Lynchburg-Clay High School. The game was originally scheduled for 11 a.m.

An evening at the White House.

Students are excited to start day 2 at Mt. Vernon!

8th grade students enjoying themselves in Gettysburg!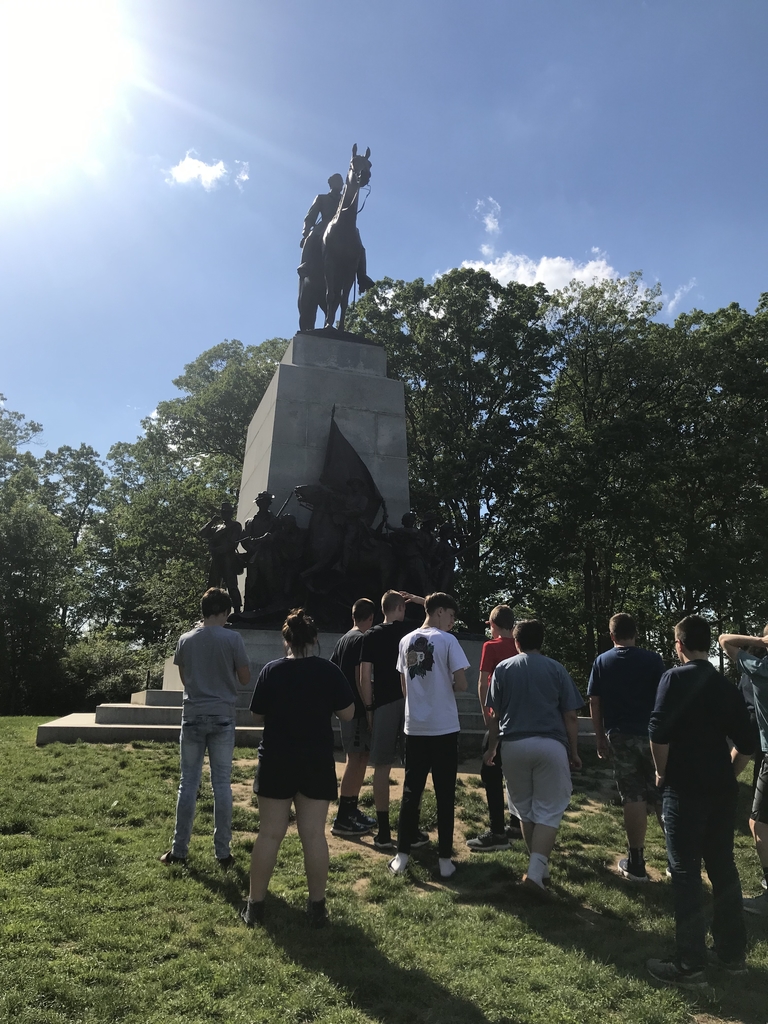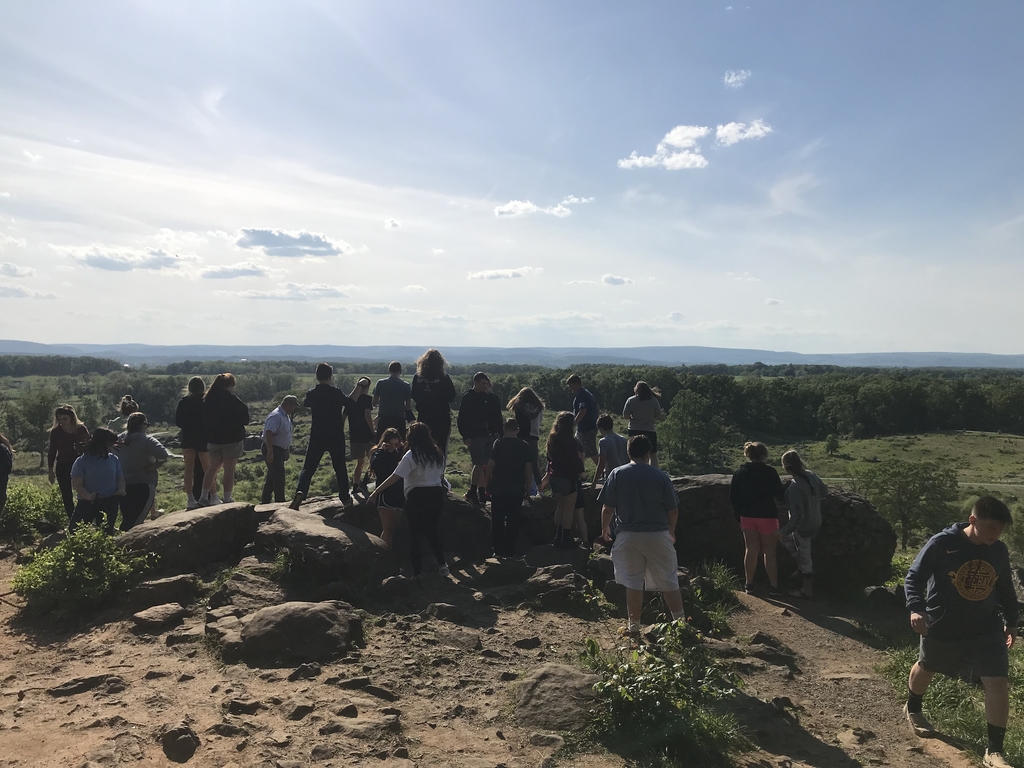 Our baseball team defeated Portsmouth West 8-5 in the Division III Sectional Semifinal game! They now play for a Division III Sectional Championship on Saturday against Lynchburg Clay at 11:00 a.m. at Lynchburg Clay H.S.

A reminder that all Kindergarten through 3rd grade students will not be in school this Friday, May 17th due to teacher professional development.

Any district child who is 5 or will be by August 1st, 2019 YOU MUST REGISTER FOR KINDERGARTEN BY MAY 30th, 2019‼️

The Kona Shaved Ice Truck will be at Adena on Monday, May 13th from 10:00 AM to 1:00 PM! 25% of sales will be donated to the Leukemia and Lymphoma Society as our Pennies for Patients campaign. Please help support this great cause! Students, staff, and community members may purchase a sweet treat in various sizes, $3 - $7. Flyers were handed out to send home with elementary and middle school students

Congratulations to Sidney Ayers! She was named the April Student of the Month for the high school! She will be receiving a certificate, picture on the wall, and lunch from Raising Cane's. The lunch will come with a gift card.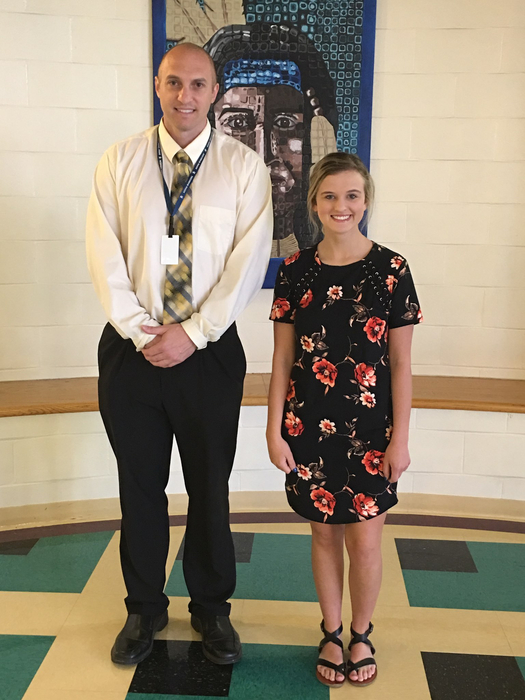 *HS Students and Parents - Chromebooks for the 1:1 program will be collected on two different dates. Seniors will have their chromebooks collected on May 17th. Grades 9-11 will have them collected on May 21st. Please bring the charger, case, and chromebook that day.

Congratulations to Megan Peek! She signed her letter of intent to play softball at Ohio University-Chillicothe!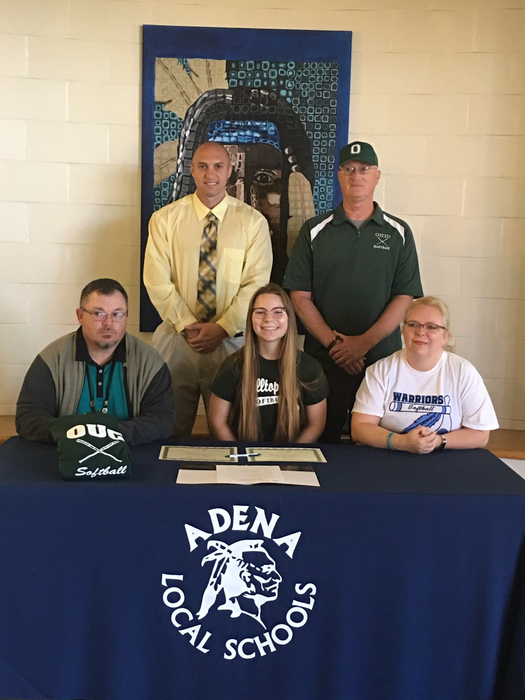 Today marks the beginning of Teacher Appreciation Week at Adena. Teaching has always been a challenging job. Today more than ever teachers are facing challenges nobody imagined would be part of the daily job- emotional trauma, families in chaos, constant accountability rule changes and added unfounded mandates. Thankfully our teachers can still find time to focus on our kids. It is what professionals do. Take a moment to watch this video produced by students in Mrs. Cormany's technology class. It's a great salute to our staff and a confirmation of their dedication to the wellbeing of our kids. Thank you Adena staff and have a wonderful week- You are appreciated!
https://youtu.be/0K96J2GnZHY

We want to let everyone know we had to deal with an elementary bathroom incident in which a girl had written, "I have a bomb in my book bag." Following the protocol of assessment we determined it was not a credible threat but we still have to contact the Ross County Sheriff to file a report and concur on our assessment. The Sheriff's department concurred it was not a credible threat as well. However, as an added precaution I asked for the Pickaway County bomb sniffing dog to check the lockers. The dog found nothing. I appreciate the quick work of both Ross and Pickaway County Sheriff's Departments. Parents, we have to sit down with our children and make sure they understand in this day and age that actions like this are not appropriate or acceptable under any circumstances. PLEASE sit down with your children and have the crucial discussion regarding being responsible for your actions and knowing how to think before acting. We have to work together to make sure our school can operate safely at all times. Each time we have to deal with an event like this we undermine the overall sensitivity to safety among our students and hamper our first responders with unnecessary responses. We will always act to preserve the safety of our students. We hope that you will help support us by making sure all students know their responsibilities in this process as well. Thank you.

The Chillicothe & Ross County Library has a poetry contest each April for National Poetry Month. The contest is open to all students in grades K-12 in Ross County. Once again, Adena Students have made a great showing in this contest! Adena students who have placed are listed below: The categories are as follows: Grades K-2 (First, Second, Third, Honorable Mention) Grades 3-5 (First, Second, Third, Honorable Mention) Grades 6-8 (First, Second, Third, and two Honorable Mentions) Grades 9-12 (First, Second, Third, and two Honorable Mentions) Out of the 18 places, Adena students took 9 of them!! The Adena Winners are: Grades 3-5 First Place - Payton Fannin, 4th Grade, Miss Cottrill, "Ross County Fair" Second Place - Kiara England, 5th Grade, Miss Glandon, "A Walk in the Park" Third Place - Marly Halcomb, 4th Grade, Miss Cottrill, "Softball" Honorable Mention - Katterli Ebright, 4th Grade, Mrs. Foster, "Families" Grades 6-8 Second Place - Riehle Raines, 7th Grade, Mrs. Guthrie, "School" Third Place - Nathan Montgomery, 7th Grade, Mrs. Guthrie, "Trapped" Honorable Mention - Tatum Martin, 7th Grade, Mrs. Guthrie, "A Different World" Honorable Mention - Kersten Leach, 7th Grade, Mrs. Guthrie, "Water" Grades 9-12 First Place - Marah Knisley, 12th Grade, "And For That, I will Always Love You" Congratulations Adena Students, and thanks for representing your school so well!

Adena Schools recognized as an outstanding community partner during the 2018-2019 season. Thank you to United Way for supporting our school activities and programs!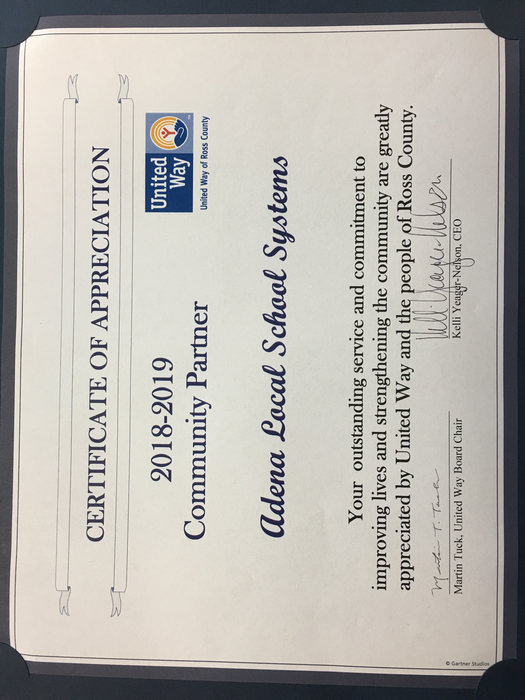 There will be a mandatory Washington D.C. trip parent meeting on Tuesday, May 7th, 2019 in the Rubber Gymnasium @ 6 PM. During this meeting we will discuss the travel plans, student information, student rules, and behaviors. After talking with the students they are excited for their opportunity to learn about our Nation's Capital and we are excited to offer this opportunity to them. See you all on Tuesday, May 7th at 6.